VS.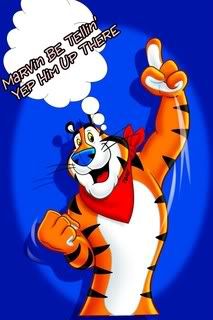 Marvin, Dont let Curtis pimp you out to the police!!!
So Now i guess hosting events in which police catch people doing illegal stuff is GANGSTA!! Marvin [Tony Yayo] is Hosting a live tapeing of BUSTED.
Rapper Tony Yayo will host a special live edition of MTV's new reality-based show Busted the network announced today (September 25). During the three-hour long Busted:Live, which airs October 4, Yayo will broadcast live from MTV's Times Square studio, as MTV cameras join police patrols in Calvert County, Maryland and Akron, OH, in search of live versions of the moments reenacted on the show.
In between live busts, Yayo will take a look back at some of the most notorious arrests of the daily show's first season.
The show will air as part the line of programming entitled Cell Block Saturday, which will also include a recap of the most memorable moments from Busted.
Cell Block Saturday will also kick off with Celebrity Busts: Ranked, an hour-long special featuring the biggest and most embarrassing celebrity moments in recent pop culture history, including Kid Rock's Waffle House fight in Atlanta.