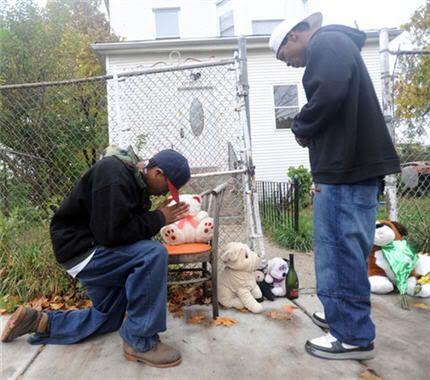 I GUESS IT'S TIME TO UPDATE THIS WHEN I STARTED MY MYSPACE ALL OF THE ABOVE WAS TRUE , NOW BECAUSE I CHOSE TO DO WHAT WAS NATURAL TO ME AND LOVE SOMEONE , IT COST ME MY BEAUTIFUL FAMILY MY WONDERFUL BEAUTIFUL LOVING SUPPORTING MOTHER DARNELL, MY TRUE BLUE BABY BROTHER JASON , I LOVE U BIG BABY ... AND LAST BUT NEVER NOT LEAST MY ONLY SON JULIAN , MY INNOCENT BABY ONE THAT WAS SHELTERED FROM ALL THE EVIL OIN THE WORLD BECAUSE WE LOVED HIM SO MUCH... BUT THANK YOU ALL FOR YOUR LOVING SUPPORT, I KNOW SOME OF YAL HAVE YOUR OPINIONS AND YOU ARE ENTITLED TO THAT , LIKE WHY IS SHE LOGGING ON TO MYSPACE AT A TIME LIKE THIS , LET ME TELL YOU WHY I WAS HOPING THAT , THAT WAS A WAY TO MAYBE HELP ME GET MY SON, MY BABY THE ONE I CARRIED UNDER MY HEART FOR 8 1/2 MONTHS THE SON IT TOOK ME 21 HOURS OF LABOR TO BRING HERE THE SON I GREW TO KNOW AND LOVE FOR JUST A FEW MONTHS OVER 7 YEARS THATS WHY ... AND NOW FOR THOSE OF YOU WHO ACTUALLY CARED THANK YOU FOR ALL YOUR WORDS OF ENCOURAGEMENT , THANK YOU FOR YOUR PRAYERS , THANK YOU FOR POSTING HIS PICTURE ON YOUR PAGES AS YOUR DEFAULT PICTURE THANK YOU... BUT HIS LIL SOUL IS AT EASE, I TAKE COMFORT IN KNOWING THAT JULIAN IS WITH MY MOTHER AND MY BROTHER AND MOST OF ALL THE LORD AND NOW HE'S MY ANGEL HE'S PROTECTING ME...
People have been ostracizing her for being on myspace during a time when she should have been grieving and questioning her emotional state. This is what she has to say to you, and what i have to say is people grieve in their own way so leave the lady alone allow her to grieve in her own way.


Via Her Myspace Page.
POLICE are still reluctant to name Balfour as a suspect despite alot of the evidence, and motive, because of Lack of crucial evidence. He's still in state custody i believe because of a parole violation but is STILL no longer in police custody.