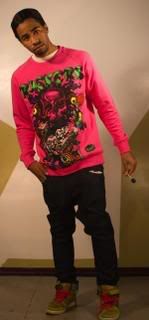 Wordspit Interview:


SW- Hey what's up Word Spit Whats Up I Been hearing good things about You How Ya Feeling?

WordSpit – Well right about now I feel good, I've been ripping street corners for a while and now people are starting to know me for what I do best. Jesus juice!

SW - And where did the name Wordspit come from?

Wordspit - wordspit comes from (wordz of resignating destruction spit properly over instrumentals timely) but the cooler way of putting it is "son you heard that kid wordz he spit" lol

SW - For those who don't know tell the people how long you've been rhyming?

Wordspit – Since 16, I've been in the womb of the hip-hop game.

SW - So what would be one of your favorite songs that YOU created?

Wordspit - One of my fav's would be chop suey because it's a different sound for me, it has more of a rock and roll feel, but still hip hop-ish at the end, I love to go left instead of right when it comes to music ,fashion or life.

SW- That's what's up, I noticed that your music is different from a lot of the people who are trying to get on and who actually have deals now today. What makes your music so much more different from other artists?

Wordspit – I don't know it's just me and my point of view, I don't want to be nobody, but wordspit the illest, I'm not scared to say what I want, when I want, and how I want to say it. I'm not getting paid from music right now ,so I can make music the way I feel ,with out anyone over me telling me I should sound like this(its all me) .Jesus juice!

SW - Speaking of different I noticed your choice of clothing, and style and its very unique tell me about it?

WordSpit – Well my fashion inspiration comes from a lot of different things, first I like to think of my style as the beginning of the "anti rapper fashion statement". That means I'm not going to dress like how the normal rapper is going to dress. I loved snoop dog when I was coming up, I use to look at his hair and be like this dude is pimping, so I wanted to wear my hair in roller's and wraps, something that the normal dude with braids wouldn't do(I feel like a pimp lol a lot of people don't understand it ).At the same time I feel like a rock star so I wear my hair messy sometimes too, as far as clothes, it comes from being the broke man's fly guy, I'm not Kanye or Jay-Z, I can't afford to wear Gucci and Versace everyday or I would be broke, so I take another queue from the rockers, they don't give a f*ck, so I try to incorporate that into my style but with a sense of being neat at the same time and it comes out like wordspit. I'm like a little bit of everything (from retro to rock, to hip hop-ish, in one big mix up) I like to think of my style as the beginning the anti rapper fashion statement. That means I'm not going to dress like how the normal rapper is going to dress. Jesus Juice!
**HIS WRAP IS ALMOST BETTER THAN MINES WE NEED TO GET OUR HAIR DONE TOGETHER.

SW - Jesus Juice? But Anyway, Do You Have Any Last Words For The people, any people you want to shout out, put on blast, any upcoming engagements that we should be aware of?

Wordspit - The infection mix tape and the not a joke this year video is soon dropping check for those. I like to say thanxz to my supporters, my dj's and producers, A.B.M and you miss lovely I have to say thanxz a million to you.

To Get in Contact with Word Spit or for music and updates, you can hit him up at:

www.myspace.com/wordspit
www.abmnewyork.blogspot.com
www.youtube.com/wordspit
A.I.M: wordzfraze
E-Mail: wordspit@gmail.com
Wordspit The Illest http://www.xxlmag.com/online/?p=23464