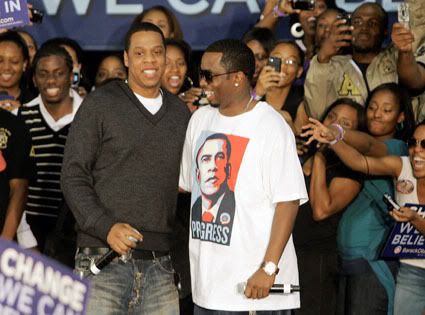 Yep, According to some chicago newspapers Jigga Man was told not to come out to Grant park last night to celebrate Barack Obama's victory. (Dang Hov, Thats gotta Hurt) BUT Obama and his camp didn't do it to snub Jay they did it because they said "grant park only needed one celbrity, Barack Obama".
They didnt want to take the focus off of Obama due to the presence of stars - (even though Oprah was there, I guess they're right, Who's Oprah??? *sucks teeth*) - Anywhoo, Jay-Z However was told to focus on attending the inaugaration speech.
Diddy, No one's talking about you this morning, we're waiting on your last political diddy blog, and after this election, Your diddy blogs may even become irrelevent to blog land - (thank ya Jeezus) - So Take that, Take That.
Other stars who were politely told to "fall back" Include :Mary J, Diddy, Beyonce (should i even mention her since her and Jay are the same?) Susan Sarandon, Ben Affleck, and Tim Robbins.
Source