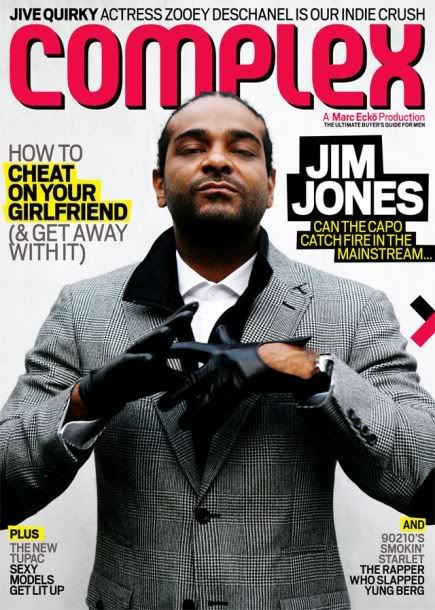 So Capo Covers Complex, and i think he did this interview High. Im posting this under BLAME IT ON THE SWAG.
Speaking of attention, Max B has been going hard at you lately. He even has a site for it, fuckjimjones.com. How do you feel about that?
Jim Jones: It's cool. Anything he tries to do, I can either shut it down or get paid for it. I own him, all his publishing, all his contracts. He sold me his publishing to get out of jail. He called me crying on the phone saying, "If you bail me out, I'll sell you all my publishing and do whatever I got to do." He damn near said, "I'd suck your dick like a crackhead to get out of jail." [Laughs.] So you can imagine how frustrated I am, the way I'm living. I got 50 grand in my book bag, and we ain't even at a video shoot.
In his mind that may not sound gay, but for him to even reference another guy sucking him off is a little...i dont know, "Suspect". Another thing what does 50 grand in a book bag have to do with being at a photoshoot?
ANYWAY Here's another Interesting Q&A. When he was asked about who could bring NY back to the forefront of the hip hop game Capo shot off names like 50 cent (really?) and The Lox but didnt mention Jay Or Nas.:
So even with personal hatred aside, Nas and Jay are still not on the roster?
Jim Jones: To bring New York back? Shit, why they ain't bring it back already? It would've been back. I didn't even think about them. The integrity of their music right now is not where we come from any more. Nas is still stuck in Africa, and Jay is talking about way too much money and Merrill Lynch talk and shit like that
Merrill Lynch...LMAO Im telling you guys its either the weed or he's gone nuts.
Wait I Cant Stop Posting Quotes Heres Probably The Last One:
Jim, do you have any theories?
Jim Jones: Jay-Z never sells as much as Kanye. Jay-Z wishes he could sell as many records as Kanye. So he's only beating him with terrible swag. Like over there, their swag is terrible. They having a terrible swag contest. It's really bad over there.
BAD SWAG CONTEST, Mwahahahaha LMAO. This is the funniest sh*t ever.
You can read the rest of that interview By Clicking HERE
Plus heres a Behind The Scenes Photoshoot.