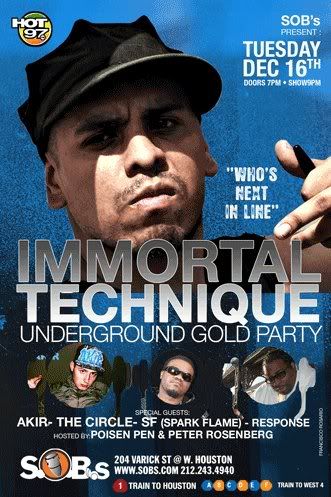 Kozza over at S.O.B's sent this over. I know my hip hop heads would like to go hear some underground stuff over at S.O.B's. I know you guys enjoyed CMJ so why not head on over and have a great time at S.O.B's again.
Tuesday December 16th
HOT 97 & S.O.B.'s Present:
"WHO'S NEXT IN LINE"
FEATURING
IMMORTAL TECHNIQUE
"UNDERGROUND GOLD PARTY"
SPECIAL GUESTS:
AKIR // THE CIRCLE
SF (SPARK FLAME)
HOSTED BY:
POISEN PEN
PETER ROSENBERG
Doors: 7pm
Show: 9pm
Admission: $12 in advance/$15 Day of the show