Soooo word on these here streets is that Chance and Real are about to get a new reality dating show [ohhh boyyy, more black people embarassing black people] but these are the promotion shots for the show.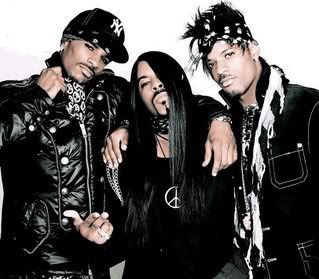 Dont Laugh too hard, this isnt funny, its sad that they are going to have 15 girls on this show actually COMPETING for them, and this funny lookin get up OMG im mad!!!
Sad Thing is they stood in front of a camera and let them take more than 1 picture.
I initially thought this was a rumor, so i headed over to VH1 they said:
America's two favorite brothers Real and Chance tried to steal New York's heart in the VH1's hit series I Love New York but were both left broken-hearted. Now the Stallionaires are back and ready to find love in their own new 11-episode series. Real and Chance will get their much deserved, and much anticipated chance to find real love as 15 young ladies move into their Stallionaire ranch house and try to capture their hearts. In the final episode, Chance and Real will make the most difficult decision of their lives. With two women vying for each of their hearts, they must decide who they would like to take a real chance of love with, and who's going home alone.
We are living in our last days, head to wal-Mart get you some cases of water and batteries to go in them flashlights.