First Of All Let me thank my connect.....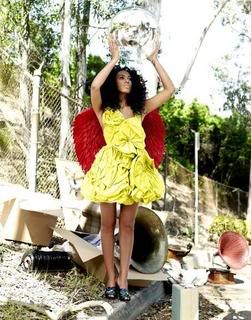 Nah OK well i know this is not the regular "Super Woman" Blog on celebrity gossip or whatever. I must say even though i was harsh on
SOLANGE
and her outfits,
[which i did say were always fab she just added some very WTF items,
i must say that im so SHOCKED at all the negative press, attention, and just everything all-in-all that she has been recieving. I dont understand why so many people hate her so much, because she told the reporter dont ask her shit about Jay-Z's club closing and her family business? Well i must say that i agree with her whole heartedly, is she supposed to just sit there in her sister's shadow and allow people to continuously dismiss the fact that she has a career and is promoting her album? She's Not promoting Beyonce's Next album or Blueprint 3
[coming soon]
.So why are they continuosly ask her about Hova Or B? SHE IS NOT BEYONCE, BUT SOLANGE!! I think if alot of people would stop being beyonce stans, and actually take the time out to listen to some of Solange's work they might like it. When expression isnt presented in a fashion that is considered "normal" we dont want nothing to do with that shit. Well its a new day and Kanye sold more than 50 cent
[and we all know kanye is...well different,]
so get over Beyonce and open up a new lane for NEW creative expression. Tired of those same love songs anyway. So as i close this saying that YES solange is a good artist and her music is very different from what we are used to, i very happily play her joint Sandcastle off of her album Sol-Angel And The Hadley Street Dreams.
--Sincerely [Super Woman]