.....To a Suge Knight we once knew, a Suge Knight who used to put fear in all of our hearts (and if you say he didn't you a DAMN lie). ANYWAY he's now suing Kanye West after he got shot back in 2005 at Ye's VMA awards after party (i think it was after).
Where someone also stole his earring.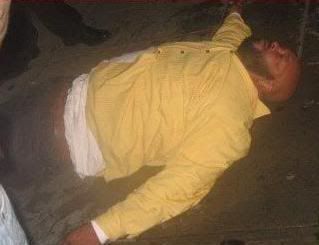 TMZ
got kind of gangster on this post on their website where they say :
Suge Knight is picking a nasty fight with Kanye West over a diamond earring -- 3 years after the broke-ass record mogul was shot and then allegedly robbed of his ice at one of Kanye's parties.
OK suge first you get knocked out by a barber...a man who cuts hair, then you slap your
stripper
girlfriend around NOW your suing kanye for taking a bullet in the
ass
leg? Ughhhh, i just cant anymore..
WAIT
i also thought they didn't find that girl...isn't she still missing?
Ummmm never mind Suge I Take it Allllllll Back
SIKE